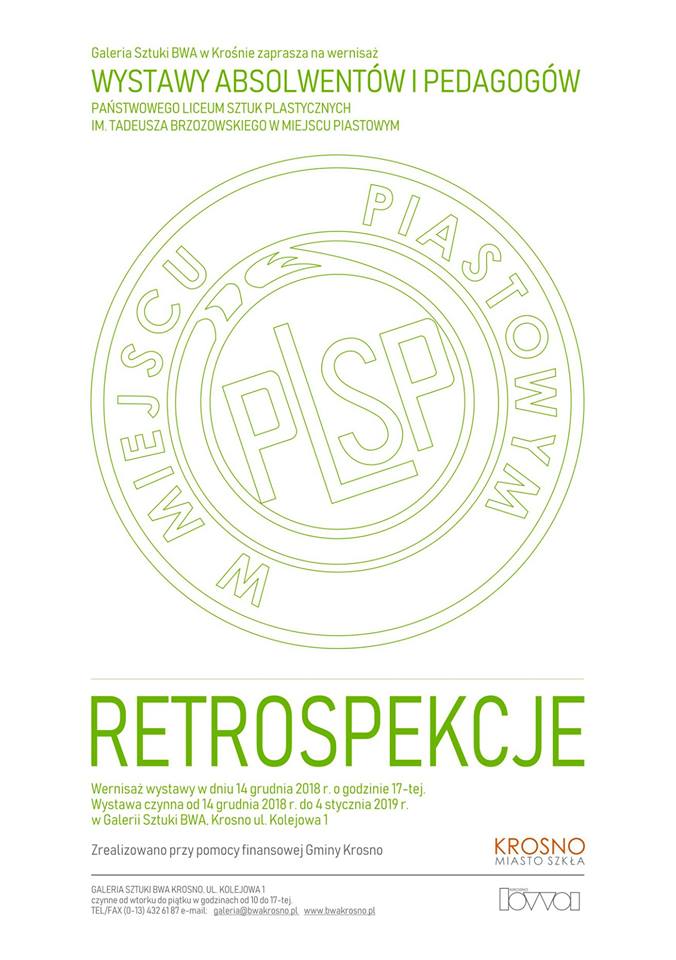 Vernissage of the exhibition "Retrospections" in the Bureau of Art Exhibitions in Krosno.
On December 14, 2018, at the BWA in Krosno, an exhibition of graduates and educators from the State Lyceum of Fine Arts in Miejsce Piastowe took place. The exhibition was aimed at showing the current achievements of artists who in the years 1984 – 1992 were high school students.
The authors of the exhibition were Paweł Armata, Bogdan Biernat, Marek Cymerman, Jolanta Dziok, Zdzisław Gil, Janusz Goleń, Roman Górka, Maciej Gryglaszewski, Grzegorz Grzebieniowski, Dorota Jajko-Sankowska, Jarosław Jakubczyk, Władysław Kandefer, Barbara Kasprzycka-Łosiak, Bogdan Klechowski, Ireneusz Kopacz, Beata Krawczyk, Marian Waldemar Kuczma, Paweł Leszega, Agata Łach, Kazimierz Łach, Marlena Makiel-Hędrzak, Mateusz Maraj, Agnieszka Markowicz, Grzegorz Nowak, Tomasz Olbrot, Stanisława Olszańska – Marszałek, Anastazja Panek-Tobin, Joanna Pawłowska, Maciej Pęcak, Mirosław Rymar, Lidia Stec, Mirosław Szudy, Krzysztof Śliwka, Grzegorz Tomkowicz, Bożena Wojtoń, Dariusz Woźniak, Piotr Wójtowicz, Halina Zajdel.
Catalog from the exhibition available on the website Art High School in Krosno
The information portal jedlicze.org presented video reports from the event, link.
Selected photos from the exhibition. The full gallery can be found here.